Albania has recorded the lowest number of new cases of infection confirmed with COVID-19 in the past 2 weeks.
Today, 7 April, out of 182 tests performed, only 6 new cases were positive, bringing the total number of infected to 383. There is also a positive balance with regard to the healed. In the last 24 hours, another 15 patients were added to the list of healed patients, bringing the total number to 131.
This positive result is due to the intense work of epidemiological investigation and case monitoring, which has affected the interruption of the transmission chain of the infection.
The number of people affected by COVID-19 has increased in Tirana, Elbasan, Korça, and while there seems to have been a slowdown in the city of Shkoder where a few days ago there had been a significant number of cases, with an outbreak of infections following the failure to comply with the measures taken.
In daily communication for the media, the Ministry of Health announced that there are currently 74 hospitalized at the two COVID hospitals. 67 patients are hospitalized for infectious diseases, of which 5 are in intensive care. At COVID 2 "Shefqet Ndroqi" hospital, there are 7 patients in total, 6 of whom are in intensive care, while 3 are intubated. So far, 22 citizens have lost the battle against this disease.
The Ministry has provided a FREE green line 0800 40 40 to all citizens looking for information or advice on COVID-19. This line will also serve chronic patients to get information on how to contact their family doctor, how they can benefit from drugs and reimbursement and any other needs. Call the single emergency number 127 when signs of illness appear.
The government has opened a new one portal entirely dedicated to the emergency situation caused by the coronavirus. The portal can be used to get useful information and advice, updated statistics and measures taken by the government.
Coronavirus Albania, the contagion map
The map of the cities affected by COVID-19 compared to yesterday, April 6, has remained unchanged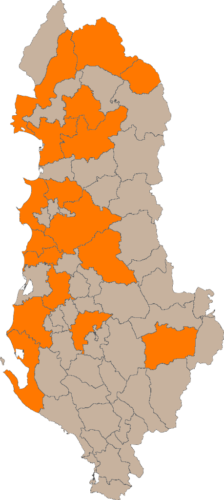 Tiranë 181 cases
Shkodër 44 cases
Durrës 38 cases
Fier 26 cases
Korçë 17 cases
Lezhë 14 cases
Has 12 cases
Elbasan 11 cases
Kavajë 8 cases
Lushnje 5 cases
Krujë 5 cases
Vlorë 5 cases
Rrogozhinë 4 cases
Tropojë 4 cases
Pukë 4 cases
Mirditë 3 cases
Berat 2 cases
Read also
Coronavirus Albania, Rama: "empty heads" in jail who do not respect the measures
Follow Albania News on Google News