24 suspects have been tested in the past 175 hours, of which 16 new positive cases with COVID-19 have been reported, bringing the total number of people affected to 377.
The good news is that 30% of those infected have recovered. So far 116 infected people have won the battle against the virus. Of the 175 new tests performed, 11 were medical personnel and were negative.
According to the official announcement, there has been an increase in the number of patients admitted to the COVID / 2 hospital in "Shefqet Ndroqi", where 6 of them are in intensive care. This hospital was established to treat people with coronavirus who are in critical condition. Shkodra, Tirana and Hasi are the three cities where the numbers have increased rapidly and this shows the lack of respect for the social distancing which is the main reason for the increase in infections.
The press release from the Ministry
24 suspects have been tested in the past 175 hours, of which 16 new cases of COVID-19 have been confirmed. So far 2571 suspect cases have been tested and of these 377 have been confirmed positive.
In addition, 11 members of the healthcare professional were tested and all tested negative for COVID-19. So far 21 citizens have lost the battle against this disease, despite the extraordinary efforts of the health workforce.
In the past 24 hours, another 12 patients have been added to the list of healed, bringing the total number to 116. So about 30% of those affected so far have won this battle. We would like to inform you that there are currently 66 patients in the infectious disease hospital. 5 of them are in intensive care.
At COVID 2 "Shefqet Ndroqi" hospital, there are 7 other hospitalized patients, 6 of whom are in intensive care. In the two COVID hospitals, there are currently 73 hospitalized patients. The number of people affected by COVID-19 has increased in Tirana, Durres, Fier, Has, Berat and Shkodra.
The government has opened a new one portal entirely dedicated to the emergency situation caused by the coronavirus. The portal can be used to get useful information and advice, updated statistics and measures taken by the government.
The map of the affected cities
The map of the cities affected by COVID-19 compared to yesterday, April 4, has remained unchanged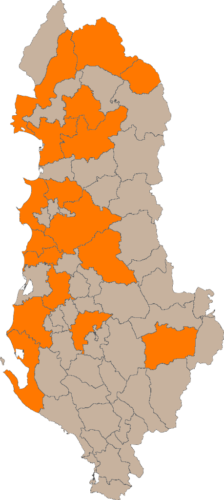 Tiranë 177 cases
Shkodër 44 cases
Durrës 38 cases
Fier 26 cases
Korçë 16 cases
Lezhë 14 cases
Has 12 cases
Elbasan 10 cases
Kavajë 8 cases
Vlorë 5 cases
Lushnje 5 cases
Krujë 5 cases
Rrogozhinë 4 cases
Tropojë 4 cases
Pukë 4 cases
Mirditë 3 cases
Berat 2 rast
Read also
Coronavirus Albania, Rama: "empty heads" in jail who do not respect the measures
Follow Albania News on Google News