Bulletin of April 5 in Albania. In the last 24 hours 149 people have been tested, of which 28 new cases have been confirmed positive, bringing the total number of people infected with coronavirus to 361.
The press release from the Ministry
"With this daily communication we inform you that the field work continues to identify new cases and to make contacts with confirmed positive cases.
The epidemiologists of each local health unit are in the field and are doing an extraordinary job of promptly identifying contacts with suspicious cases.
In the last 24 hours 28 new coronavirus cases have been recorded in Albania, out of 149 tests. The total number of tests performed so far is 2396, bringing the total number of infected people to 361. Among the 28 people who have been affected by COVID-19 there is also a child.
Good news regarding the healed, as the number has increased by 5 in the past 24 hours bringing the total number to 104. Currently there are 71 patients in the two COVID hospitals, 64 of whom are in the hospital for infectious diseases, 5 of which are in intensive care and one intubated.
While at the COVID2 hospital there are 7 hospitalized patients, 6 of whom are in intensive care and two undergoing assisted breathing. Meanwhile, the death toll has reached 20 cases with 3 cases registered in the past 24 hours. Yesterday two people died in Tirana and one in Shkoder.
It is equally important that infection control measures are respected as much as possible even within families, avoiding visits to relatives for any reason to prevent the transmission of COVID-19. If you have signs of disease COVID19 call the emergency number 127. For any questions or information on COVID19 call the toll free line 0800 40 40 ″
The government has opened a new one portal entirely dedicated to the emergency situation caused by the coronavirus. The portal can be used to get useful information and advice, updated statistics and measures taken by the government.
The map of the affected cities
The map of the cities affected by COVID-19 compared to yesterday, April 4, has remained unchanged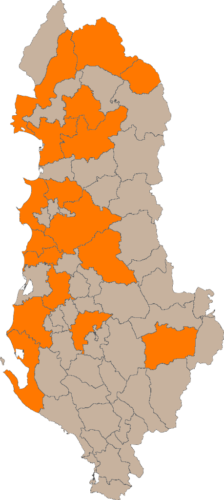 Tiranë 174 cases
Durrës 36 cases
Lushnje 5 cases
Elbasan 10 cases
Fier 25 cases
Rrogozhinë 4 cases
Kavajë 8 cases
Korcë 16 cases
Vlorë 5 cases
Shkodër 38 cases
Lezhë 14 cases
Berat 1 case
Has 9 cases
Krujë 5 cases
Tropojë 4 cases
Pukë 4 cases
Mirditë 3 cases
Read also
Coronavirus Albania, Rama: "empty heads" in jail who do not respect the measures
Follow Albania News on Google News