Bulletin of April 3 in Albania. In the last 24 hours 112 people have been tested, of which 27 new cases have been confirmed positive, bringing the total number of people infected with coronavirus to 304.
In the city of Shkodër a has occurred doubling of cases within 24 hours. It is two families of which a 13 year old boy. For this reason, the Ministry of Health, in today's communication, stressed the importance of social distancing also among family members, to avoid close contacts.
The press release from the Ministry
"In the last 24 hours 112 suspect cases have been tested, of which 27 people tested positive for the COVID-19 test.
To date, 2031 tests have been carried out on suspect cases, of which Covid is infected - 19 304 people. The average age of positive COVID-19 cases is 50 years.
In the last 24 hours we have 13 patients recovered, bringing the total number of recovered patients to 89.
We inform you that currently there are 73 patients admitted to the infectious diseases department. 7 of them are in intensive care of which 2 of them are intubated. The rest of the inpatients are in stable conditions so far.
In the early hours of the morning, 3 patients from the infectious hospital were transported to the COVID2 "Shefqet Ndroqi" hospital.
Currently 2 patients are hospitalized at COVID 4 "Shefqet Ndroqi" hospital, which follows severe cases with respiratory failure, 2 of whom are in critical condition (intubated).
The total number of patients admitted to both COVID hospitals is 81 units.
The number of people infected with COVID-19 increases in Tirana, Durres, Fier, Kavaja, Lezha, Mirdita and Shkodra.
Among the new cases of the past 24 hours, Shkodra has the highest number with 12 cases. These cases have been identified in two families including a 13 year old boy. These cases emerged thanks to the monitoring work carried out by epidemiologists in the field.
This increase in the number of cases in Shkodra shows once again the consequences of not respecting the measures of social distancing that the Ministry of Health continues to recommend daily in public communications.
An on-site epidemiological investigation is currently underway with a team from the Institute of Public Health.
The Ministry of Health and Social Protection urges citizens to continue to respect social distancing measures. It is equally important that these measures are respected as much as possible even within the families, avoiding visits to relatives for any reason to prevent the spread of COVID-19.

The government has opened a new one portal entirely dedicated to the emergency situation caused by the coronavirus. The portal can be used to get useful information and advice, updated statistics and measures taken by the government.
The map of the affected cities
The map of the cities affected by COVID-19 compared to yesterday, April 2, has remained unchanged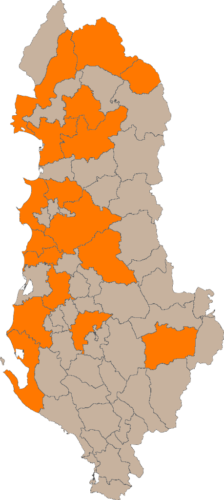 Tiranë 146 cases (+3)
Durrës 32 cases (+2)
Lushnje 4 cases
Elbasan 8 cases
Fier 25 cases (+2)
Rrogozhinë 2 cases
Kavajë 6 cases (+1)
Korcë 16 cases
Vlorë 5 cases
Shkodër 22 cases (+12)
Lezhë 11 cases (+5)
Berat 1 case
Has 8 cases
Krujë 5 cases
Tropojë 4 cases
Pukë 4 cases
Mirditë 3 cases (+1)
The press release from the Ministry
Follow Albania News on Google News