21 new cases have been registered in the last 24 hours in our country, bringing to 467 confirmed positive cases in Albania.
Among the new cases there is also a member of the healthcare staff and two children.
During the past 24 hours, another 15 patients have been added to the list of healed patients, bringing the number of patients healed from COVID-19 to 232.
Since March 9, when the first case of COVID-19 was discovered, 4070 swabs have been performed, and of these, 467 cases have been confirmed positive with COVID-19. So far 23 citizens have lost the battle against this disease, despite the efforts of healthcare professionals.
Currently, 52 patients are receiving treatment at the two COVID hospitals. 43 patients are currently hospitalized at the infectious disease hospital, 7 of whom are in intensive care and 2 of them are intubated. While at the COVID 2 "Shefqet Ndroqi" hospital, there are 9 patients, 7 of whom are in intensive care, while 5 of them are intubated.
The number of people affected by COVID-19 has increased in Tirana with 6 cases, Shkodra with 13 cases, Durres with 1 case and Has with 1 case.
Meanwhile, fieldwork continues to identify new cases and keep track of people who have had contact with confirmed positive cases.
The Ministry of Health and Social Protection urges citizens to continue to respect social distancing measures even in households, avoiding visits to relatives for any reason, to prevent the transmission of COVID-19.
Coronavirus Albania, the contagion map
The map of the cities affected by COVID-19 compared to yesterday, April 12, has remained unchanged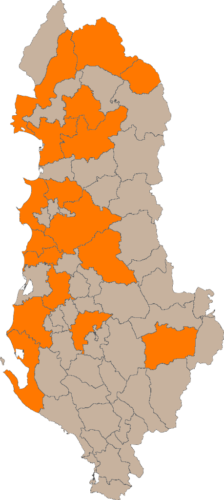 Tiranë 221 cases
Durrës 42 cases
Lushnje 6 cases
Elbasan 15 cases
Fier 32 cases
Kavajë 8 cases
Rrogozhinë 4 cases
Korçë 17 cases
Vlorë 5 cases
Shkodër 70 cases
Lezhë 14 cases
Berat 2 cases
Has 13 cases
Krujë 6 cases
Tropojë 4 cases
Pukë 5 cases
Mirditë 3 cases
Read also
Albania, towards a relaxation of the measures. From Monday the exit time is extended
Follow Albania News on Google News