In the last 24 hours, 17 new cases of COVID-19 have been identified after 259 tests performed. The total number of swabs performed in Albania is 3644, instead the total number of confirmed contagion cases is 433.
The number of infections has increased in Tirana, Shkodra, Puka, Lushnja, Kruja and Durres, while nine cities are not affected by coronavirus.
A large part of these cases resulted from the failure to respect the rules of social distancing. Deputy Minister of Health Mira Rakacolli said that some of the cases of infection were caused by visits to relatives infected with COVID-19. For this reason the Ministry invites citizens once again to respect the measures of social distancing.
"The Ministry of Health and Social Protection urges citizens to continue to comply with social removal measures. It is important that infection control measures are respected as far as possible within households, avoiding visits to relatives for any reason, to prevent the transmission of COVID-19. If you have signs of disease COVID19 call the emergency number 127. For any questions or information on COVID19 call the toll-free line 0800 40 40 "Said Rakacolli.
So far, 23 citizens have lost the battle against this disease, despite the extraordinary efforts of healthcare professionals. In the past 24 hours, another 15 patients were added to the list of healed patients, bringing the total number to 197.
Currently 60 patients are hospitalized at COVID hospitals. 53 of these patients are treated at the infectious disease hospital. 6 of them are in intensive care, while 2 patients are intubated. Instead at the COVID 2 hospital "Shefqet Ndroqi" there are 7 hospitalized patients. 5 patients are in intensive care, 4 of them are intubated.
The number of infections has increased in Tirana with 10 cases, Shkodra 3 cases, Puka 1 case, Lushnje 1 case, Kruja 1 case and Durres 1 case.
Coronavirus Albania, the contagion map
The map of the cities affected by COVID-19 compared to yesterday, April 10, has remained unchanged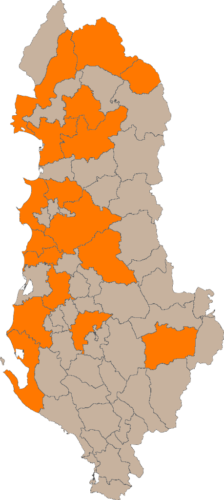 Tiranë 209 cases
Durrës 39 cases
Lushnje 6 cases
Elbasan 15 cases
Fier 32 cases
Kavajë 8 cases
Rrogozhinë 4 cases
Korçë 17 cases
Vlorë 5 cases
Shkodër 52 cases
Lezhë 14 cases
Berat 2 cases
Has 12 cases
Krujë 6 cases
Tropojë 4 cases
Pukë 5 cases
Mirditë 3 cases
Read also
Albania, towards a relaxation of the measures. From Monday the exit time is extended
Follow Albania News on Google News