Voskopoja is an important tourist attraction of theAlbania. Between high mountains, forests and green fields, Voskopoja is in effect a typical Balkan country. It is located at 20 kilometers from Korca and to 1.150 meters above sea level.
It has been recognized as an inhabited place since 1330. With time the city continued to grow to its peak in the 1750, with a population of almost 30.000 inhabitants. Although located in a rather isolated place in the mountains of southern Albania, the city has become the most important center of the Arumena.
In the past Voskopoja (In Italian Moscopole ) had 24 churches adorned with many frescoes, of which only seven survive today. She was also known for her secondary school, for the Academy of learning, for the library, and as an important center for artisans and textiles.
It is an important center for its history and its culture. It was first mentioned in the 14th century medieval chronicles; at that time, it was known by the Greek name of Moschopolis. In the fifteenth century, it was occupied by the Ottomans who expanded the city as a commercial center.
The first churches were built in the 17th century. Even the first printing press in the Balkans was built here, in 1720, and the first books in Greek were already printed in the 1760. The authors, Teodor Kavaloti e Teodor Haxhifilipi, both lived a Voskopoja.
Among the best preserved religious buildings are the monastery of San Prodhon, San Nicola, San Michele, San Atanasio and San Ilia: all of them - with their paintings of great value - represent an important attraction for tourists. Especially in San Prodhon, where every year, the 24 June, numerous visitors come from Coriza and other cities to witness what was the religious service in the past.
Still today, Voskopoja is a living proof of the fascinating history of the region, as evidenced by its numerous religious sites immersed in the cobblestone streets that date back to 400 years ago and are still used today.
In addition to the healthy climate and fresh air, winter snow, summer freshness, endless forests, you will also find comfortable hotels and even a natural ski platform for amateurs. Fresh dairy products, cheeses and fresh meats, beans, potatoes and plums, can be found everywhere in the city.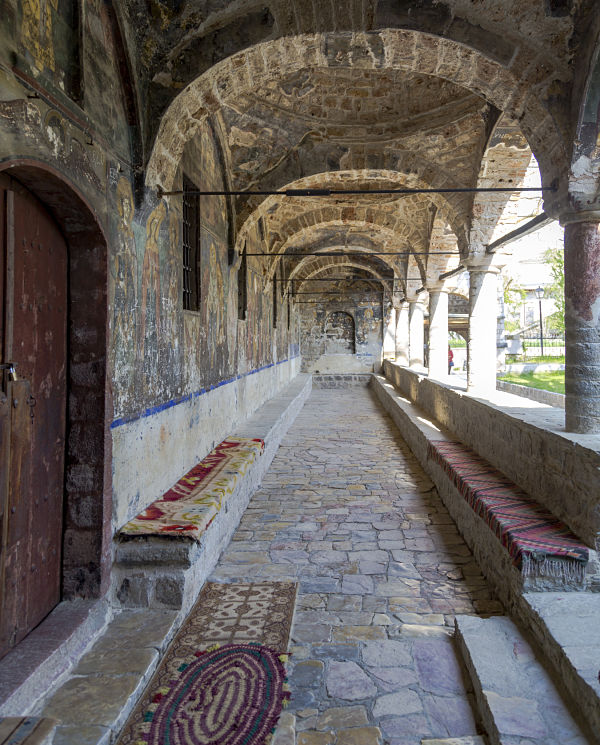 Another well-known tradition is the beekeeping and the delicious wild flower honey of Voskopoja. The characteristic fire-baked cake, spit-roasted meat, plum rakia, are just some of the traditional dishes of the area found in most hotels.
Craft work was one of the areas that made Voskopoja famous and influential in the 14th century. Carpets, hand embroidery, stone, wood and iron work are also part of this area's tradition.
Voskopoja, a tourist attraction in south-eastern Albania near Korça #ScopriAlbania ❤️🇦🇱

Placed by Tourism Albania op Vrijdag 7 september 2018
This article was originally published in turismo.al , an Italian portal on Albanian tourism. The copyright of the photos in this article are by Gite Kolasi which you can follow up Instagram