Ksamil is a small town located about 17km in the south of Saranda and is known for having some of the only sandy beaches in the area as well as for having small islands that can be reached by swimming intertwined with breathtaking scenery and, moreover, by the abundance of fish fresh at very low prices making it one of the best places to visit while you are in Saranda.
The city of Ksamil was built in the 1966 and is part of the Butrint National Park area. In summer this is the favorite beach for tourists and locals alike. The beach area is limited, especially in sandy areas, so expect to pay around 500 lekë for two beds for the day (read more about Albanian currency)
Ksamil, the small gem of the southern coast
Pedal boats, jet skis and other water activities are also available. Furthermore, in Ksamil, there are numerous hotels and guest houses if you decide to stay overnight and not take the bus back to Saranda.
During the low season, however, expect to have the beach for you and have less selection in hotels and restaurants, as most close around mid-September.
Ksamil beach
The beach of Ksamil overlooks four small islands, so close that they can also be reached by swimming or by boat. The sand is clear and the turquoise sea is shallow, there are a couple of bars and restaurants on the beach. The lido is connected with shuttles from Saranda.
Ksamil beach is slightly more expensive than other places in Albania; having said that, it remains a "bargain" compared to other countries. The average hotel room price is around 20-30 dollars per night. A villa for about four people costs approximately 80 dollars per night.
Food in Ksamil is also relatively cheap. A plate of pasta will cost from 3 to 5 dollars, while a fish dish will cost you from 5 to 10 dollars depending on the request. There are also several fast food options that will cost you much less. Alcohol is also quite cheap, about 1-2 dollars per drink, less if you are brave enough to try rakia - the traditional Albanian grappa.
Ksamil consists of a few islands and a few beaches on the mainland. The beaches connected to the mainland can be quite crowded during the high season. If you prefer a more secluded beach, you can take a boat to go to one of the smaller islands, or, alternatively, if you are a good swimmer, you can swim there. There isn't much to do in Ksamil if you don't swim and sunbathe. However, there are many day trips that can be made, such as visiting the Blue Eye (Syri I Kaltër), the UNESCO heritage Butrint and the ancient stone city of Gjirokastër (Gjirokastër) if you want to go a little further.
Bus transportation is frequent between Ksamil and Saranda, making it the perfect destination for a day trip. Hitchhiking is also an option, easy for small groups and safe for female travelers.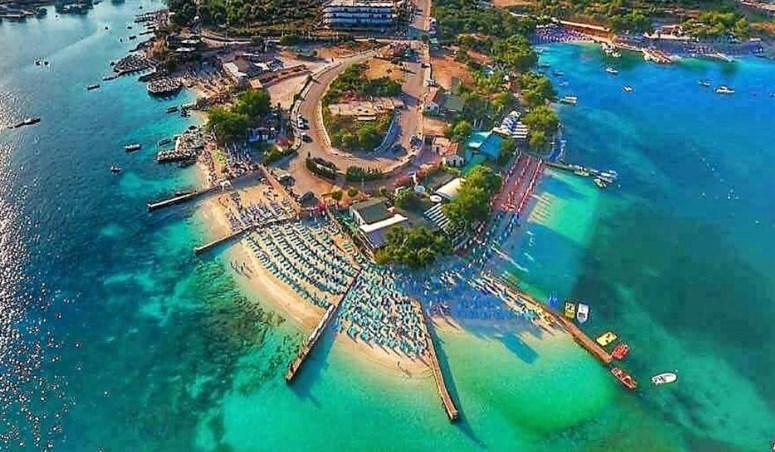 Advice and information on Ksamil
You can see the island of Corfu from anywhere in Ksamil
The waters of Ksamil are crystal clear and full of marine life, perfect for diving
There is Wi-Fi on the beach
In high season the rate for two sunbeds and an umbrella can go up to 500 lekë, but it's worth it if you plan to stay for most of the day. If you are in high season make sure you arrive in Ksamil soon or after the 15.30, otherwise all the places on the beach will be occupied
In about an hour you can reach Butrint by Ksamil. You will cross secluded beaches, few people do it and this makes it even better
There are 4 small islands in Ksamil. Two of them can be reached by swimming and are very close. The other two 'twin' islands, on the other hand, are a little more distant and require a pedalo or a taxi-boat to be reached. The advantage in these islands is to avoid overcrowding. There are also a number of small cafes and restaurants on the 'twin' islands that offer good food, drinks and services.
You will pay 1 € for a beer and 4-7 € for a main course
The locals speak English, Italian and Greek
Ksamil, Pema and Thatë (Video)
You might also like
Follow Albania News on Google News