Apollonia is an ancient city in Illyria, located on the right bank of the Voiussa river. Its ruins are located in the district of Fier, near the village of Pojani.
Apollonia was founded in 588 AC, in a place occupied by Illyrian tribes. The city flourished during the Roman period and was the site of a renowned philosophy school. The decline, however, began in the 3rd century AD when - among other things - an earthquake devastated its port.
Cicero, the famous Roman orator, was fascinated by the beauty of the city defining it in his Filippiche '' magna urbs et gravis '', or big and important city. Archaeological excavations have shown that the city reached its peak from the 4th century BC to the 3rd century AD; the sources depict a thriving culture and a very active port during the city's heyday, which also had its own mint for the production of coins, found to the foot of the Danube.
Apollonia had a wall along 4km that surrounded an area of ​​137 hectares. It has been estimated that 70.000 inhabitants lived well during the peak of civilization in the city. Among the most interesting monuments are the municipal council building, the library, the triumphal arch and the temple of Artemis.
Also noteworthy is the Odeon, which dates back to the 2nd century BC and once hosted about 10.000 spectators, and the covered two-storey walkway along 77 meters.
An earthquake in the 3rd century AD altered the path of the Voiussa river and caused serious damage to the infrastructure.
The city's population diminished until it was almost uninhabited. It was rediscovered in the 1700 and archaeological excavations continued intermittently throughout the 20th century.
The decline of the city would seem to have been caused by the rise of the city of Vlora. It was rediscovered by European classicists in the seventeenth century although only in the 1916-1918 with the Austrian occupation that archaeologists began to investigate the site. Their work was continued by a French team in the 1924-1938. Parts of the site were damaged during World War II.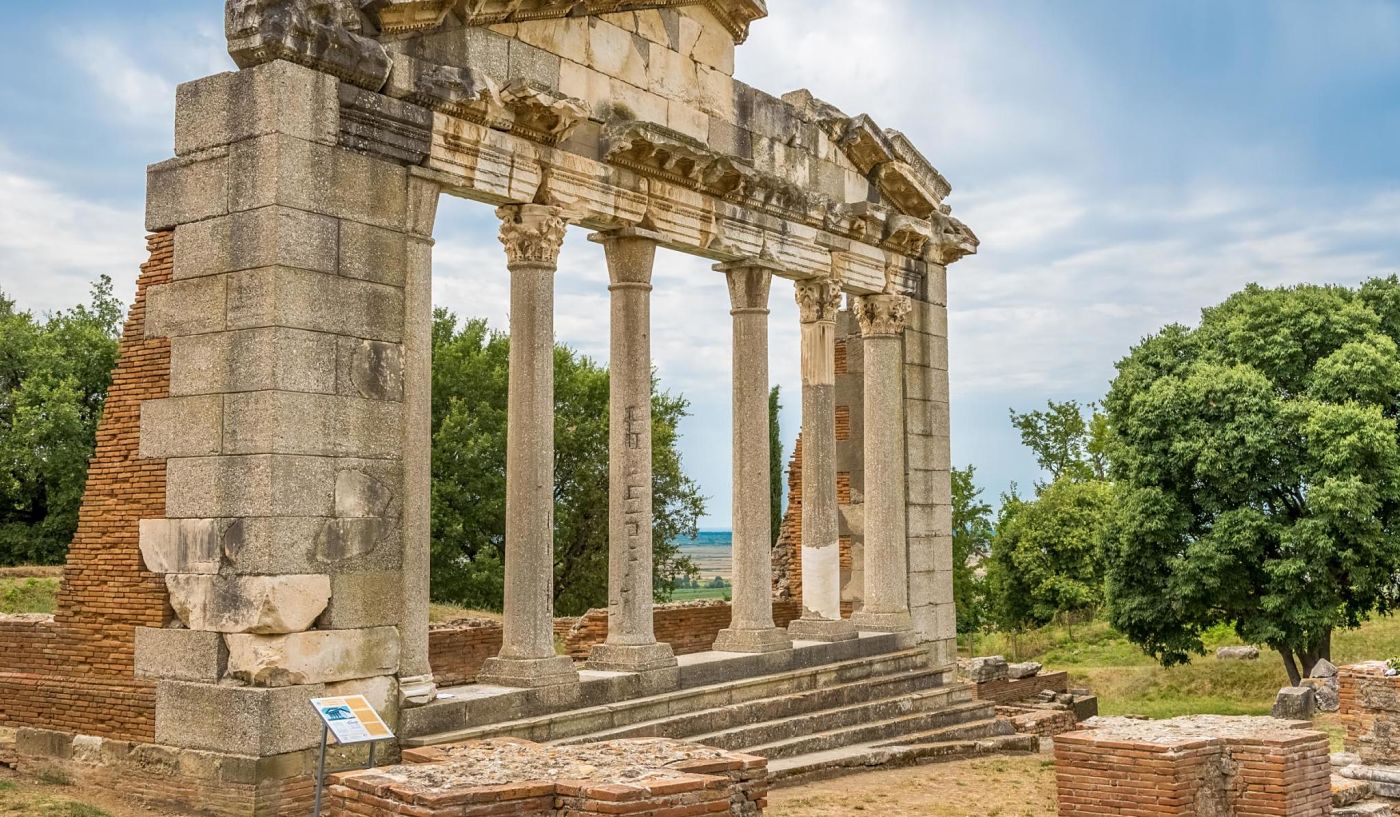 After the war, an Albanian team undertook further work from the 1948 onwards, although much of the site remains unknown to date. Some of the team's archaeological discoveries are exhibited inside the monastery, known as the Museum of Apollonia, and in the capital Tirana.
Unfortunately, during the anarchy that followed the collapse of the 1990 communist regime, the archaeological collection was ransacked and the museum was temporarily closed. The ruins were often excavated by looters because the relics were sold to collectors abroad.
In December 2011 a new museum was inaugurated, under the direction of Marin Haxhimihali. It replaced an older museum dating back to the 1985 and was financed by UNESCO. Today the site is easily accessible from the nearby town of Fier and offers both unique views of the Adriatic coast and a vast collection of historical and archaeological objects of interest.
Read also