The Ministry of Infrastructure and the "Gjoka Konstruksion" have signed the agreement for the construction of the "Rruga e Arbrit" highway, in the southeast of the country that will connect Albania with Macedonia.
The value of the entire work is estimated approximately 254 million eurosor, while the "Gjoka Konstruksion"Offered to carry it out, after negotiations with the ministry, for about 240 million euro.
The construction of the motorway will take place according to the model of a Public Private Partnership. The parties are intended to the following; the "Gjoka Konstruksion" should carry out the entire work with its own funding, as well as taking on its maintenance, for a period of 13 years, while the government will repay the entire investment in installments over a period of 13 years . Work should last 46 months.
The difficult part of the project is the construction of that long 60 kilometer section in mountainous terrain, including a long tunnel. It is a very important project, also because it is the first according to the PPI formula.
"We are planning the construction of other infrastructure works and in the next two years Albania will become a real construction site," stressed Infrastructure Minister Damian Gjiknuri during the signing ceremony for this contract.
The Map of the Rruga and Arbrit
"Via Arbërit" will be an effective link between this area and the capital, as it can promote local production and tourism. After the Durres-Kukës-Pristina road, built three years ago and nicknamed the "Via della Nazione", "Via Arbërit" is considered by far the most important.
It also has a national value because it connects the Albanians living between Albania and Macedonia; in the future, it will also be a direct link between Macedonia and the sea.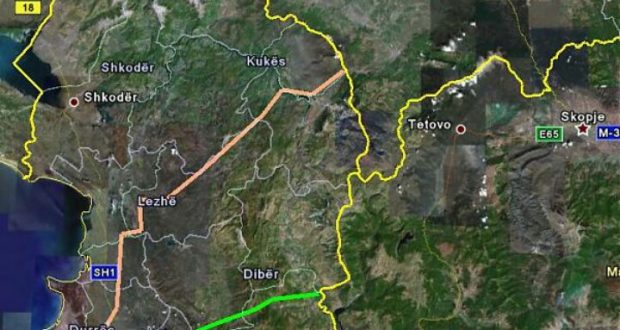 You might also like
Follow Albania News on Google News