The architectural firm MVRDV has unveiled its project to transform the 'Pyramid of Tirana' of the communist era in Albania into a center dedicated to technology, art and culture.
The abandoned structure will be revitalized as a multi-functional center of technological education for young people in Tirana, with existing dark interiors that will become open, bright and green spaces.
The Tirana pyramid was inaugurated in the 1988 as an Enver Hoxha museum, designed in honor of the former Albanian communist leader. Since then, the building first became a NATO base during the Balkan wars, then a night club and finally an event space. Although now in decline, the building remains a popular place for young people who want to climb to the top of the pyramid. In this sense, the MVRDV project will make the top of the pyramid officially open to all citizens.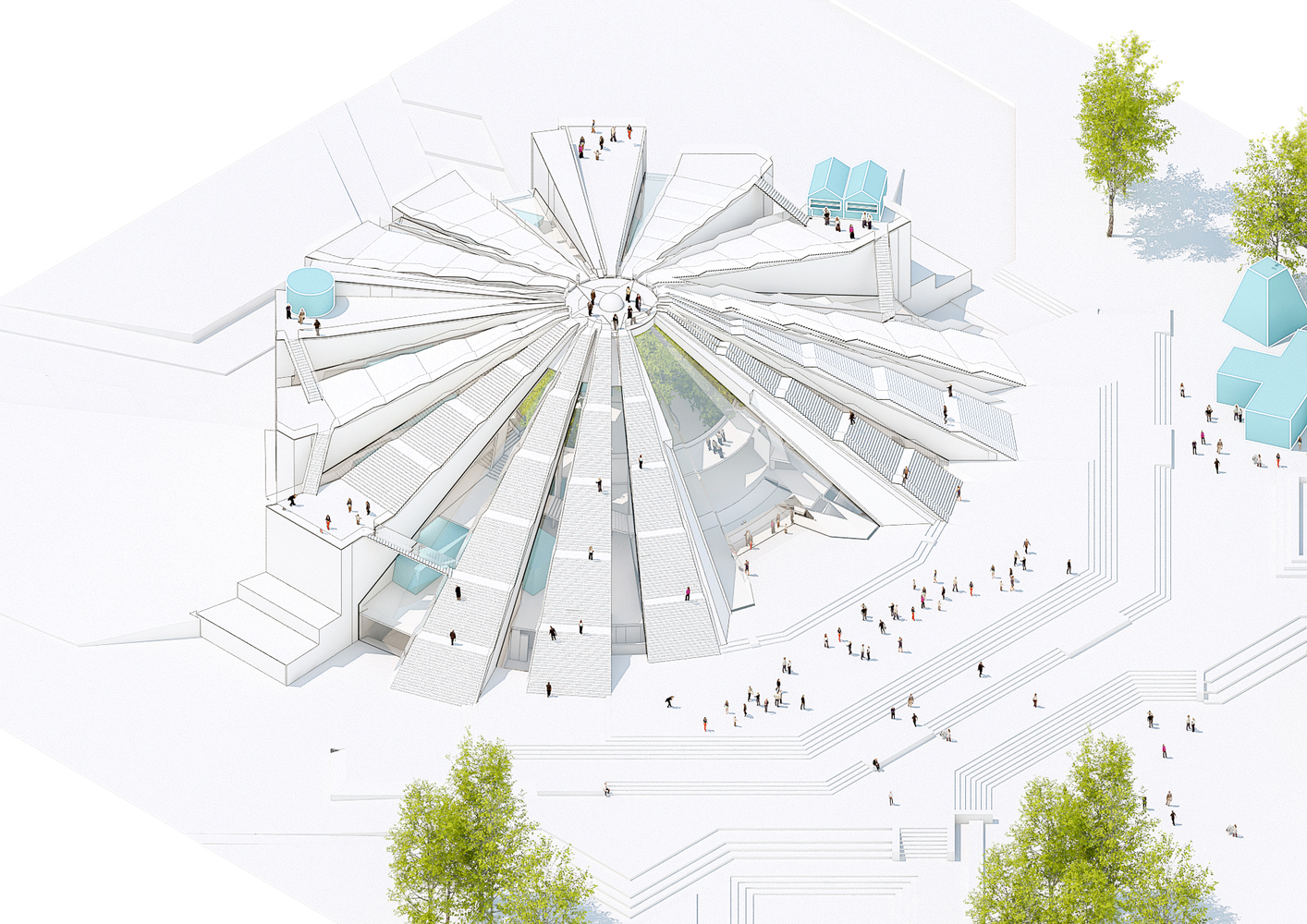 "Although in the past there were plans to transform this monumental building into a national theater, this has never materialized leaving this fantastic building in ruins for over a decade. The pyramid of Tirana will rise again becoming a new center of technology and learning for young people. " - he has declared Winy Maas, co-founder of MVRDV.
The project plans to open the levels of the building on all sides, thus facing the closed and inaccessible atmosphere currently existing and filling it, consequently, with light and activity. The concrete beams, instead, which will be used for additional extras of structures such as pavilions for temporary events, will form the background.
"It is a symbol for many Albanians. For the older generations, it is a reminder of cultural events during the communist period, for the new generation, instead, it is the place of celebration of the new post-communist era. Young people will use it as a meeting place, for concerts or even just meetings. We will open it in its surroundings to make it become a "park structure". We will make the beams accessible so that everyone can climb to the top and celebrate the structure with a magnificent view of Tirana. We will create an inhabited monument."- continued Winy Maas.
Fundamental to the MDRDV approach was to respect the current informal use of the structure by young people and reinforce this appeal by inviting all citizens to share this function. Once completed, the new center will host a learning program in which learners will form their own 'technology and design' education.
Designed as a commission of the municipality of Tirana, the project should be completed in June of the 2019.
Read also
Tirana Pyramid (project page on MVRDV)
Follow Albania News on Google News