The Albanian Albanian business magazine Monitor publishes a comparative research on the bar and restaurant sector in Albania, which shows that in Albania there were, at the end of 2016, about 14.200 bars and 3.965 restaurants, with an increase of 6.3% compared to the previous year .
In relation to the population, therefore, which counts 2.870.000 inhabitants, this fact puts Albania at the top of the world rankings, which are expressed in number of exercises every 100.000 inhabitants: Albania reaches the spectacular figure of 654 exercises each 100.000 inhabitants, one each 152 inhabitants.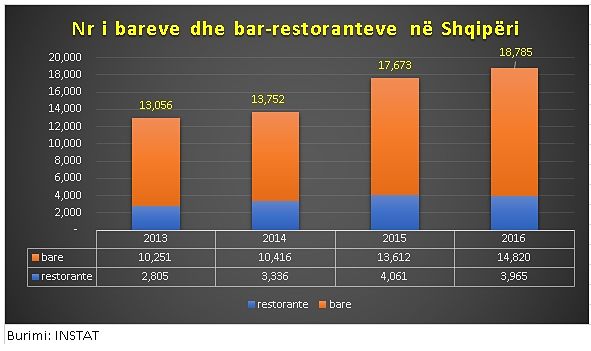 Values ​​that are valid overtaking on Spain that up to the 2015 held, on a world scale, the primacy in this ranking with 592 bar every 100.000 inhabitants.
In the three-year period 2013-2016 in Spain have closed their doors about 70.000 activities. On the other hand, a reverse trend in Albania, where, according to INSTAT, 4.569 bar and 1.160 new bar-restaurants have opened, which is why in the 2016 Albania has jumped into the lead in this particular ranking.
The bar-restaurants, which represent the 17,5% of the businesses in business, have been, since the beginning of the years' 90, an easy business alternative for everyone. Setting up on their own, opening a bar in their neighborhood, was the easiest way to make money for the Albanians or at least to survive.
In the world, bars are innovating, going beyond the traditional, to adapt to new customer tastes. Many have gluten-free, vegetarian, vegan or even craft beers on their menu, 'special' cocktails and 'special' alcohol.
Also in Albania this path is being undertaken (bars offering cakes or yoghurts, bars specializing in cocktails or fresh fruit juices) but for the most part they continue to remain 'traditional', where the most consumed product is the coffee that costs average 60-80 cents, among the cheapest in Europe.
Follow Albania News on Google News