During a meeting with the citizens of the village of Has, Prime Minister Edi Rama said that work at Kukës airport will begin very soon and that the first flights are scheduled for the autumn of next year.
According to the premier, the airport will be characterized by low-cost flights, thus becoming a point of great importance that will greatly change the economy of the area.
"We will start very early with the airport works. The latter will change as we have presented a new project, which includes a longer runway, a modern terminal and many other things.
I hope the work will begin by the end of the 2018, if it is not, it will be delayed up to a month. In conclusion, I think that for the beginning of next autumn we will have the first flights from Kukes. "- declared Rama.
However, the project for the new Kukës airport - published yesterday on the Facebook page - looks like a copy of another airport, the Georgian airport of Kutaisi. The photo, in fact, is the same one published by the UN studio last year for theKutaisi airport .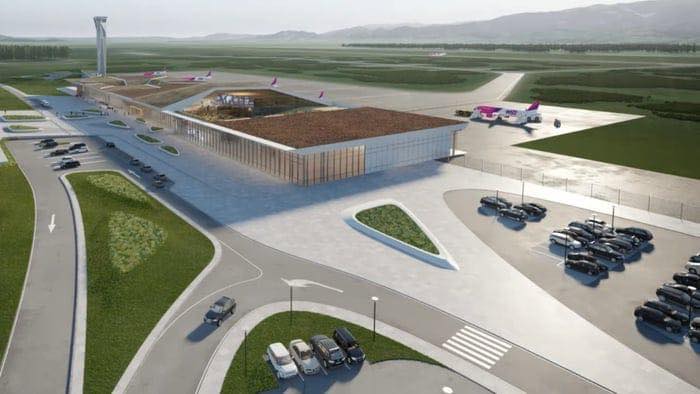 Vlora airport
Not only Kukës airport: the construction of the new one should be completed by the end of next year Vlora airport .
It will cost 90 million euros and will be financed and built by a consortium of three large international companies known as the companies that built the Istanbul airport.
The construction of the new Valona airport will give a new impetus to the development of the seaside area of ​​Vlora and South Albania, with a progressive increase in the number of tourists and with the revaluation of the real estate market of holiday homes by the sea.
Furthermore, new impetus will also be given to commercial relations with Italy, which thus becomes closer than ever to the southern Albanian coast, and new investment opportunities in the tourism sector and in general trade.
2018: the data of the lines
The number of passengers that traveled by airline in the period January-September 2018 increased by 14,1% to 2.291.883, compared to last year.
Still according to the Instat, in the first nine months of the 2018, air transport represented the 62,5% of total transport.
The number of passengers traveling by sea also increased: for example, only in September, this amounted to 184.696 passengers, up by 8,5% compared to September last year.
Follow Albania News on Google News