Bulletin of March 30 in Albania. The number of people infected with coronavirus in Albania has reached 223. In the last 24 hours, another 11 new cases of COVID-19 have been confirmed.

In the last 24 hours in Albania 90 tests have been performed of which 11 people have tested positive for COVID-19, bringing to 223 the number of infections throughout the country where 1526 tests have so far been carried out in total. There are 11 coronavirus victims in our country. In the past 24 hours 4 people have recovered. 44 healed in total
The Ministry of Health and Social Protection once again addresses citizens with an appeal: do not go to the hospital immediately! The Ministry has provided a FREE green line 0800 40 40 to all citizens looking for information or advice on COVID-19.
This line will also serve chronic patients to get information on how to contact their family doctor, how they can benefit from drugs and reimbursement and any other needs. Call the single emergency number 127 when signs of illness appear

The government has opened a new one portal entirely dedicated to the emergency situation caused by the coronavirus. The portal can be used to get useful information and advice, updated statistics and measures taken by the government.
The map of the affected cities
The map of the cities affected by COVID-19 compared to yesterday, March 29, has remained unchanged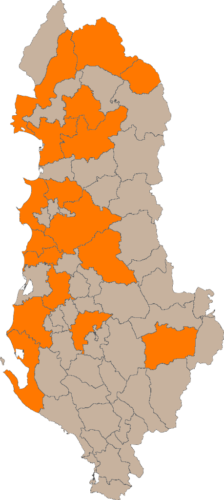 Tiranë 124 cases (+3)
Durrës 14 cases (+2)
Lushnje 4 cases
Elbasan 5 cases
Fier 23 cases (+1)
Rrogozhinë 2 cases
Kavajë 4 cases
Korcë 14 cases (+2)
Vlorë 5 cases
Shkodër 7 cases (+2)
Lezhë 5 cases
Berat 1 case
Has 2 cases
Krujë 5 cases
Tropojë 4 cases (+1)
Pukë 3 cases
Mirditë 1 case
Coronavirus victims in Albania
A 11-year-old woman from Durres died on 73 March
On March 18, a 66-year-old man from Lushnja died
On March 22, a 71-year-old man from Kuçova died
On March 23 a 43-year-old man from Kavaja died
On March 24, a 49-year-old man from Tirana died
On March 25, a 71-year-old man from Tirana died
An 26-year-old woman from Tirana died on 85 March
A 27-year-old man from Fier died on 66 March
On March 28, a 67-year-old man from Tirana died
On March 28, a 72-year-old woman from Vlora died
On March 30, a 79-year-old man from Tirana died
Statement from the Albanian Ministry
Follow Albania News on Google News