Bulletin of April 2 in Albania. The number of people infected with coronavirus in Albania has reached 277. In the last 24 hours, another 18 new cases of COVID-19 have been confirmed.

The press release from the Ministry
"With this daily communication we inform you that the field work continues to identify new cases and to make contacts with confirmed positive cases.
The epidemiologists of each local health unit from north to south are in the field and are doing an extraordinary job of promptly identifying contacts with suspect cases.
We inform you that a 78-year-old Durres patient, confirmed with COVID-19, died this morning. The 78 year old was in serious condition, intubated for 3 days and despite the efforts of the medical staff unfortunately he was unable to survive.
The Ministry of Health and Social Protection expresses condolences to the deceased's family. So far 16 people have died from Covid-19 in Albania.
In the last 24 hours 96 tests have been performed on suspicious cases, of which 18 are new cases confirmed with COVID-19
To date, a total of 1919 tests have been carried out on suspect cases and the number of positives with COVID-19 is 277 units of which only 8 are children. The average age of positive cases with COVID-19 is 50 years.
In the last 24 hours we have 9 patients recovered, thus bringing the total number of patients recovered from COVID-19 to 76.
Today, another 9 members of the healthcare professional have been tested and tested negative.
There are currently 81 patients admitted to the infectious disease department. 8 of them are in intensive care of which 4 of them are intubated and subjected to assisted breathing. The rest of the patients are in stable conditions up to now. In the meantime, we have 2 hospitalized patient at COVID 1 "Shefqet Ndroqi" hospital.
The number of people affected by COVID-19 has increased in Tirana, Durres, Kavaja, Lezha, Has, Elbasan, Shkodra and Puka. There are ongoing epidemiological investigations where epidemiologists are working intensively on finding contacts with positive cases in order to disrupt the transmission chain of the infection.
The government has opened a new one portal entirely dedicated to the emergency situation caused by the coronavirus. The portal can be used to get useful information and advice, updated statistics and measures taken by the government.
The map of the affected cities
The map of the cities affected by COVID-19 compared to yesterday, April 1, has remained unchanged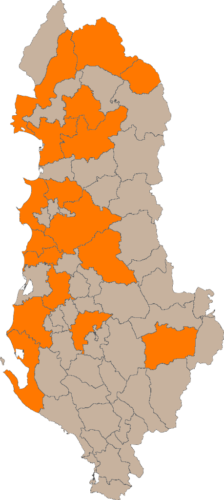 Tiranë 143 cases (+3)
Durrës 30 cases (+1)
Lushnje 4 cases
Elbasan 8 cases (+3)
Fier 23 cases
Rrogozhinë 2 cases
Kavajë 6 cases (+1)
Korcë 16 cases
Vlorë 5 cases
Shkodër 10 cases (+2)
Lezhë 6 cases (+1)
Berat 1 case
Has 8 cases (+6)
Krujë 5 cases
Tropojë 4 cases
Pukë 4 cases (+1)
Mirditë 2 cases
The press release from the Ministry
Follow Albania News on Google News