In the past 24 hours, 23 new coronavirus cases have been confirmed. The map of the affected cities still extends to the city of Kruja where only one case has occurred.
So far they have been carried out 1041 swabs of which 146 citizens are results positive. To date I am 17 the healedinstead others 3 patients are in intensive care in severe conditions, undergoing assisted breathing.
The infected are increasing a Korca with rapid spread of coronavirus, thus reaching a total number of 11 infected. Korça is in third place on the map of the cities most affected by the coronavirus, afterwards Tirana with 83 cases e Fier with 14. Today also a Lezha, 3 new cases have been confirmed.
The second hospital is expected to be opened for COVID-19, with the planned conversion of the "Sheqfet Ndroqi" hospital better known by the name "sanatorium" because the infectious diseases hospital is running out of places as it currently has 72 hospitalized patients out of 120 beds available in this facility.
The statement from the Ministry of Health
We inform you that there are currently 72 patients admitted to the hospital for infectious diseases, 4 of them are in intensive care (3 patients are intubated in serious conditions). While the rest of the patients are in stable condition so far. The good news is that 17 infected citizens left the hospital as they tested negative for the two tests. They will remain in quarantine for another 14 days.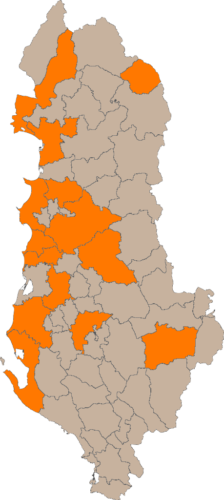 Tiranë 83 cases (+11)
Durrës 9 cases (+1)
Lushnje 4 cases
Elbasan 3 cases (+1)
Fier 14 cases (+2)
Rrogozhinë 2 cases
Kavajë 4 cases
Korcë 11 cases (+2)
Vlorë 5 cases (+1)
Shkodër 3 cases (+1)
Lezhë 4 cases (+3)
Berat 1 case
Has 2 cases
Krujë 1 case
The Ministry of Health and Social Protection once again addresses citizens with an appeal: do not go to the hospital immediately! The Ministry has provided a FREE green line 0800 40 40 to all citizens looking for information or advice on COVID-19.
This line will also serve chronic patients to get information on how to contact their family doctor, how they can benefit from drugs and reimbursement and any other needs. Call the single emergency number 127 when signs of illness appear
Press release from the Ministry of Health
Follow Albania News on Google News