"I believe that light does not repeat itself twice in the same way. This is why I have so much passion to photograph "...
... are the words of the Albanian photographer Edmond Kaçeli, which we find in these days as the protagonist of a photographic exhibition "What I see" in a beautiful country with a breathtaking view of the Langhe.
The country is called Albaretto della Torre and as tradition has it, every summer, in this period photographic exhibitions are set up, meetings with writers and musical events are organized called "Alta Langa Rock".
This year, the photo exhibition curated by Claudio Lorenzoni (Cultural Association The Soman Purgatory of CN), it was his turn to an Albanian photographer who has lived in the Langhe for about 14 years.
The exhibition has found place not in a common place as we are used to seeing them, but inside the Civic Tower which is located in the center of the country from the 07.7.2018 to the 09,07.2018.
It was created in collaboration with the Municipality and the Proloco of Albaretto.
The number of visitors in only two days amounted to to 500 e impressions are more than enthusiastic.
The work of the photographer and the curator of the exhibition has succeeded in capturing the visitor's curious gaze with professionalism.
Kaçeli and Lorenzoni they have been friends for a long time and collaborate together in various cultural activities in the Province of Cuneo.
We bring here the words expressed by his curator:
"I have always believed that the true story of the people can be read on the other side of their biography.
I've always liked people who never took themselves too seriously and who manage to fill themselves with contentment even with little. I like to discover these people with voracity and present them to the public with as much enthusiasm.
One of these is Edmond Kaçeli, the photographer friend."
Interview with Edmond Kaçeli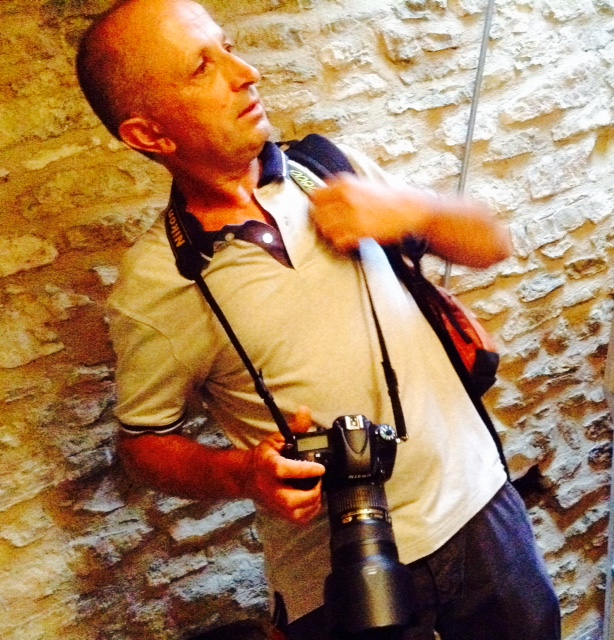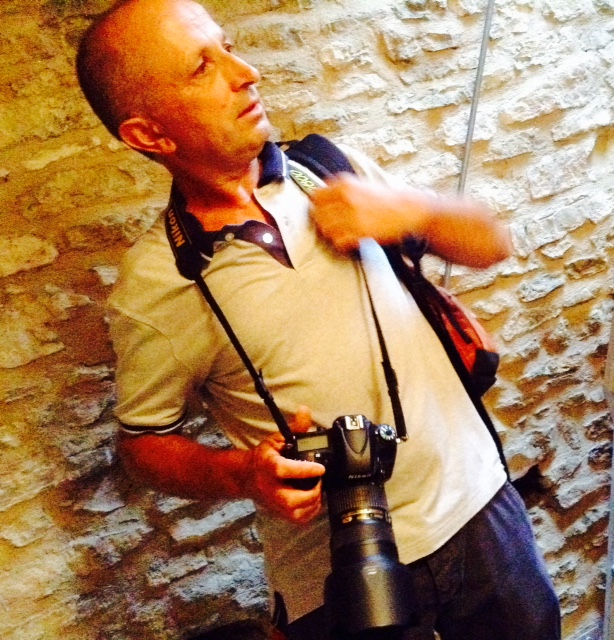 I was born in Lezhë (Alessio), in Albania, in the 1966. Agronomy graduate, freelance blogger for Albanian magazines.
I am a photographer and a poet by passion, a journalist by profession. For many years I worked in the first anti-communist newspaper right after the years' 90, "Koha Jone" (Our Time).
I published three books of poetry, two of which in Albanian: "Symbiosis"1994; "When the fairy tales are over."1998; in Italian "The rebel sparrow " 2005, International Literary Publishing (series of Contemporary Italian Poets) Ragusa.
Where did your inspiration for poetic and photographic work come from?
Inspiration is a thing within us and at the same time outside of us. If you are in a hurry to "find" it will not come but! It's so personal, deep, fluid ...
I usually write poems when things don't go great, when I feel sad, thoughtful, unloved ...
When I feel in an inexplicable situation ...
Perhaps the feeling is similar even when I'm about to take a picture. Only the way of writing changes: Letters are light.
Three adjectives to describe your art
Solitary, satirical, poetic.
Three words to describe yourself
Sad, tenacious, stubborn ...
What do you do before you shoot
I observe the light. Then I try to capture what I have before me
To make the photo with water drops, how many shots did you make?
Also 100 ...
What is the task of an artist today
Telling stories. For me taking a photograph is like receiving (and I hope I also give) a gift.
A gift you would like to receive
A Nikon d5 camera
The thing you do best
To write
The thing you do worse
Bricklayer
La prossima shows
In Asti, still in Piedmont
What will you do when you grow up
All I could not do as a child!
The interview was conducted by Sabina Darova in collaboration with the Cultural Association Il Purgatorio Somano of CN.
Follow Albania News on Google News