"The sea is round" (Rizzoli 2020) is a novel by Elvis Malaj. Reading this novel triggered a mixture of emotions ranging from those "what the hell is this stuff" to then love it towards the middle of the book and be surprised, positively towards the end.
Not knowing the style of Elvis, and not knowing the author, I had some prejudices during the first 100 pages of this book, I have to be honest.
Searching online I found only very little information about him. Elvis Malaj was born in Malësi and Madhe (Albania) in 1990. At fifteen he moved to Alessandria with his family, then moved to Belluno. The latest data say that he lives in Padua. Nothing about his education or various professions which, as he says in an online interview, have been shitty jobs he has or is trying to change.
"I'm a storyteller, a writer made me become Oblique's" (he intends Leonardo Luccone ed Elvira Grassi) and from them I also understand why during the novel I had the feeling that more than one novel were many stories put together where sometimes there was just the thread to connect one story with another.
"From your terrace you can see my house" is the first book of Elvis (2017 Editions Tales) with which he arrived in the 12 semi-finalists of the 2018 Strega Prize.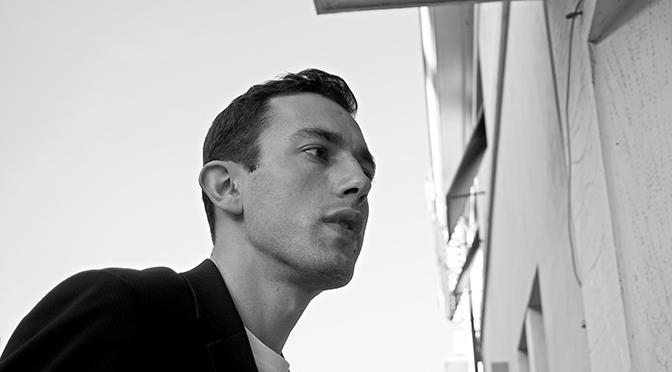 The book
The facts come to life in and around Shkodër. Ujkan is the protagonist of the book. It is not clear why he wants to go to Italy so much and maybe he doesn't even remember it anymore, but one thing is sure, he doesn't want to give up absolutely even if he has tried so many times but has failed miserably. After several attempts in an illegal way, like most of the Albanians who tried to cross the sea in an inflatable boat in those times (although here I lack the exact time since there is no date or event that makes it clear at what time it is referring to the author), once he reaches the Italian coast, Ujkan cannot really go down and goes back (from here we can also see the title).
"I don't feel up to it," he said to the incredulous smuggler, and he stayed on the rubber boat until he went home to Albania.
His first attempt dates back to the Kosovar exoduses, but his mother had managed to find him a moment before he embarked. From there his steadfast thought is to go to Italy but this time with an employment contract and documents in order. A series of events overwhelms his life during that waiting period.
At first he seems to be a bipolar boy, with serious stalking problems and even to think of using an old Albanian method, "Shkuesi" to marry the girl he fell in love with deeply.
Irene he is a real character with a temper, perhaps also due to his family history. The second time he meets Ujkan he encourages him to have intimate relationships in public, but when he refuses him because he is a romantic who wants to take him out to dinner, woo her and not take advantage of her, here Irene does not want to know. Ujkan tries in every way to make her fall in love and does not give up on her even when Irene, fed up with her courtships and chases (almost stalking) threatens him with a gun aimed at her head. Here you see a normal boy in love, romantic, and who cares a lot for his word "besë".
Often he finds himself in embarrassing situations that he doesn't try to explain to her either. Like the time Irene hit him with a stone and he was unconscious for a while. Or when friend Sulejman, the writer, organizes a lunch with him and Irene, an attempt by Ujkan to make Irene talk more and trying to make a good impression with her by introducing them to an author with whom they all seem to be in love with her books (also if the author himself presents mental disorders as a careless and total parasite), but lunch ends with the singer shooting himself with a gun in his mouth. Or when he is assaulted by RENEA law enforcement for a misunderstanding, but he risks leaving us skin.
The author's irony in describing these episodes reaches their maximum when choosing the surnames of the characters - Shkërdhata, Rrocka, Hundleshi. Reading some surnames the first time I thought two things: The characters are so fake that the author just couldn't give them a more appropriate surname, or the publisher didn't do a good job. Then following the line of the book and understanding the style of Elvis, I think it was a well thought out choice by the author. As well as not translating any of the swear words into Albanian (I will have read so many in this book that I often laughed like crazy) and used all one at a time without neglecting even one outside, so as not to risk making a spite.
The author seems to play a lot and irony about human defects and prejudices so as to reach a scale of sarcasm that probably not everyone can understand it. Braiding the stories, sometimes bizarre to the terms of the grotesque, together with the episodes of the crude reality, is not easy. But the author doesn't seem to want to focus there. Not even in introducing the characters to us giving some clues about their physical appearance, their passions or for some the real profession. He just tells the stories and that's it.
The most grotesque character in the whole book (and there are many) seems to be the controversial writer, Sulejman. A married man, with a young son, who survives thanks to the support of his wife and turns all day looking for stories that can give him the idea for his third book.
Surprised by the cashier's question, Sulejman replied, "What novel is it about? He was the wrong person. " "I came to the presentation of your second novel, you also signed me, Mr. Shkërdhata." "According to a recent survey, people who like my novels are affected by personality disorder and antisocial, depraved and potential maniac tendencies."
Sulejman seems like the typical friend who will always get you in trouble even when you are not looking for them. A careless of other people's feelings, a cynic who does not make the slightest effort to hide it, who feeds only on the stories of others at any price. In an unsuccessful attempt to write his book, since he finds nothing to write about, he tries to set up a business with Ujkan that will both get you into serious trouble several times.
Gjoke instead, he is the strange friend who still does not know if he is bisexual or gay, and shows this side only when he is under the effects of drugs and alcohol.
That morning Gjokë seemed more pensive than usual, after the briefing on the documents he had not yet opened his mouth. It was clear that he had something important to say. Suddenly he looked up at Ujkan and asked him, "Do you ever have the feeling—" He stopped to take a sip of coffee. "Do you ever feel like you have a cunt?" Sometimes Ujkan had serious difficulties understanding his friend's questions. "What do you mean?" He answered. "Yes, in short, instead of the penis, do you ever have the feeling of having a cunt?"
Personal opinion
Elvis seems to know very well or have done his due research on Kanun and the word given, "besë". It seems that he is keen to make us understand how important this word is for an Albanian and to make known the typical Albanian customs, such as that of the guest who is sacred in the house when accepting "miq" even when he is not among the most appreciated people in that moment, but is treated as the most important person in the house.
Although from an interview in 2018 he said that the times he visited Albania after he moved to Italy are counted in the palm of his hand, he seems to have brought everything he remembers from the stories and customs of the north.
Finally, I can say that you must not miss this book and you must read it with an open mind, as you do when reading satirical cartoons.
Follow Albania News on Google News